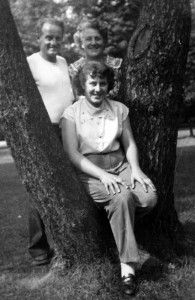 Note: Alfred and Bessie Hill were good friends of the Austins. Art boarded with them when he came home after the War. The photos of Alfred and Bessie and their daughter Joan shown here are from the summer of 1949.
May 1941
Friday, May 2, there was quite a frost in the evening, but Aida didn't think it hurt the fruit. Emily and Howard Stevens were up for watercress Saturday evening.
Sunday morning, May 4, Lon took charge of the service because Mr. Briggs was at a conference.
Rowlee visited Aida about noon to give back her book and get some watercress. Arthur was there a few minutes in the afternoon. The Austin brothers had sold The Pines (both their parents had died) and wanted to store some items at Aida's.
Tuesday morning Aida walked to the A&P. Lon discussed storage options with Arthur.
Saturday afternoon Aida walked to the Eldred Cemetery and then over to see Emily Schoonover. Rowlee was working in his shop.
Sunday, May 11, it was cold all day. Edith Parker was up to Aida's in the morning for some watercress.
Bessie and Alfred took Lon and Arthur home after church. Late afternoon Arthur and Alfred drove some of the Austin belongings to Aida's, and put them in an upstairs room.
Tuesday morning Aida took her daily trek to the A&P.
Wednesday morning, Aida cleaned the windows and floor in the storage room for Arthur. In the afternoon she took Rowlee's wife Emily her paper and some watercress. When she got back, Aida walked over to Mae's.
Monday, May 19, about noon, Aida rode to the A&P with the milkman. Arthur and Alfred Hill took some more things to be stored at Aida's in the evening; and another load on Friday. Bill Austin stayed at his house that night, but Arthur stayed at The Pines.
Saturday Aida went to the Village in the morning. Arthur was over with a mattress. The Austin brothers were all through cleaning out The Pines.
Sunday, May 25, Arthur stopped at Aida's for some books a little before 6 p.m. He said he would have to work every day 
that week.
Wednesday and Thursday Aida cleaned house. Friday Mary Wormuth stopped in to see Aida.
June 1941
Tuesday morning (June 3) Aida was down to the A&P about eight. She talked a little while to Emma Stevens. Lon went to the Village before noon.
Thursday Lon went to the Village about ten o'clock for bread. Arthur drove him down again about four to buy gasoline.
Sunday morning, June 8, Lon didn't go to Sunday School. Arthur stopped by to see if he was sick.
Monday afternoon Mae rode to visit Aida with Mrs. Lewis. Lon went down to vote. Aida went down to the A&P after Lon was home and stopped at the Hall and voted.
Tuesday afternoon Lon sawed wood at Alfred Hill's.
Thursday morning Aida rode to the Village with Herbert Kinne. She bought bread at the A&P and met Mrs. Winter in the Post Office.
Sunday night, June 15, was Children's Day in the Methodist Church. Frances drove Lon home.
Tuesday morning Aida walked to the A&P. Lon went in the late afternoon. Southeast of Aida and Lon, some of the Leavenworth men started haying at Proctor's on Tuesday. Friday and Saturday the men continued haying.
Lon went to Sunday Services at Highland Lake on Sunday morning, June 22. Arthur took him home. (This may be around the start of the Highland Lake Bible Conference.)
Wednesday morning Aida was at the Village and got some rhubarb from Frances.
Aida saw Alex Wait Thursday morning when she was at the A&P. Alfred Hill was up in the afternoon to get Lon's mowing machine.
Sunday, June 29, Arthur stopped at his aunt Aida's on his way to the Village. Art had heard from his brother Bob who was in Halifax (he had joined the Canadian Army).
January 1941
February 1941
Aida & Lon March 1941
The Village & the A&P, April 1941