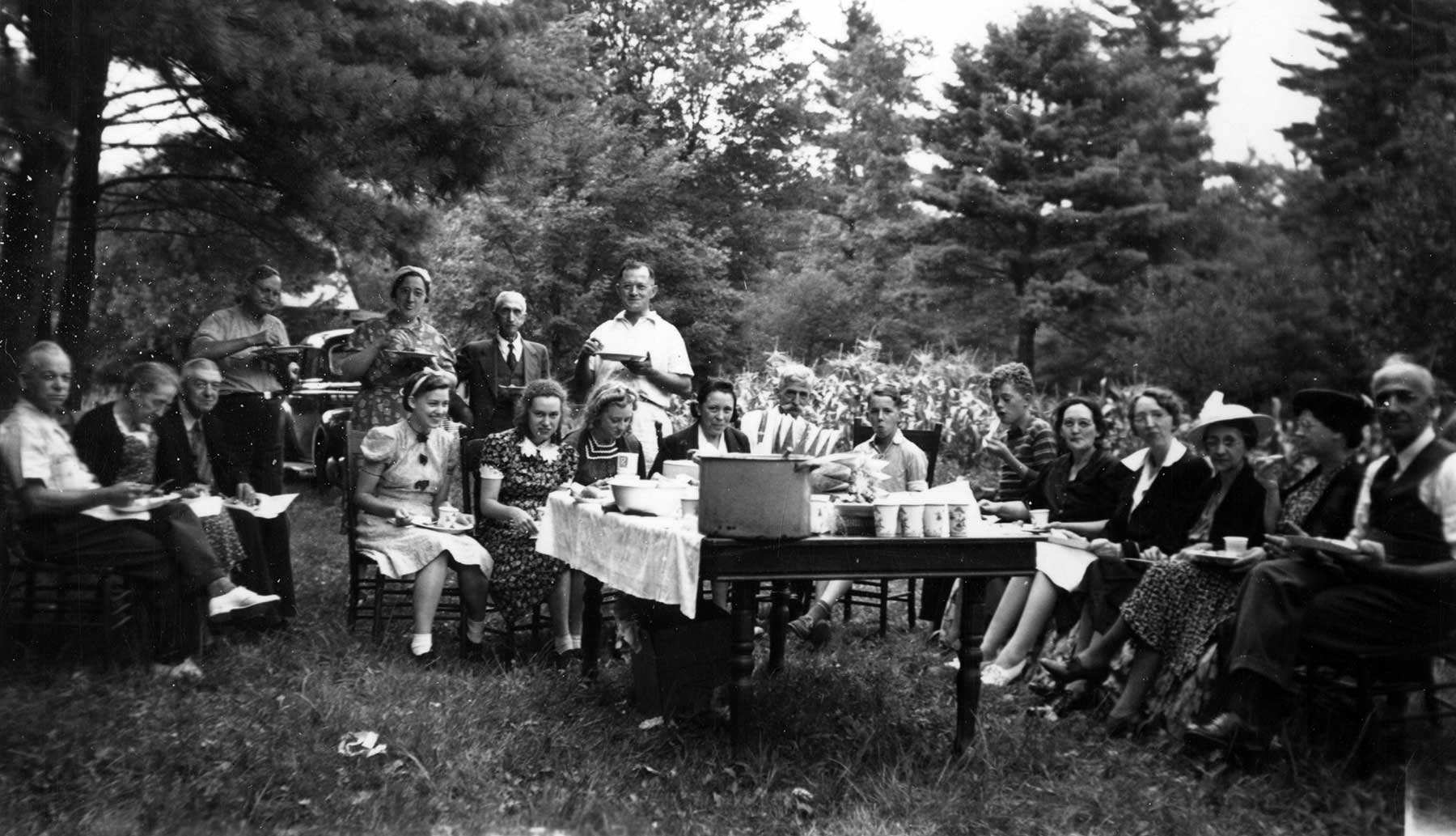 Left: A brother of Mr. Quick; Mr. and Mrs. Quick from Barryville; Mr. Deats, Lottie Dewey, Uncle Lon Austin, Frank Dewey. In front from left: Mildred, Laura and Mary Briggs; unknown lady; Chester Middaugh is behind the watermelon that Irwin Briggs cut; Dewey's son; John Briggs; Myrtle Briggs; friend of the Malconians; Mrs. Malconian and Rev. Malconian.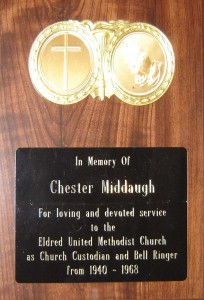 July 1941
Tuesday morning, July 1, Aida was down to the A&P. The last several days had been terribly hot. The men finished haying at Proctor's on Tuesday.
When Aida was at the A&P Thursday morning, she stopped to talk with Lizzie Wilson. On the way home she got some rhubarb from Frances.
Thursday morning (at the end of July) Aida saw Mrs. Sparks, Emma Stevens, Nellie Crandall, Mrs. Winter, and two boarders from Rothman's at the Eldred Post Office.
August 1941
Monday morning, August 4, in Eldred, Aida couldn't find salt and saleratus (baking soda) at the A&P. She had to get them at Randolph's.
Tuesday Aida went to the A&P for sugar and milk. Wednesday she washed and got some wood.
Thursday Aida ironed and went to the Village for bread. She canned some blackberries when she got home. Saturday morning Aida was back at the A&P.
Sunday, August 10, Lon went to the Methodist Church in the morning; in the evening he attended the Congregational.
Sunday the Austin brothers went to their aunt Christina's house to have dinner with their aunt Anna Leavenworth.
Tuesday afternoon Chester Middaugh was in to see Lon to tell him there was to be a clambake at Chester's place on Friday.
Aida Austin continued her daily trek to the A&P. Friday morning Aida rode with Frances Knorr to get bread at the A&P. She met Jennie Crandall and Mary Bosch.
Friday morning Lon went to the clambake at Chester Middaugh's about eleven. It began raining about noon and continued the rest of the day.
Sunday, August 17, the Austin brothers had dinner at their aunt Christina's and visited with their aunt Anna. Arthur drove his aunt Anna to visit his aunt Aida Austin.
"Peculiar views," my great-aunt Anna Leavenworth wrote about her conversation with my great-aunt Aida Austin.
Tuesday morning Aida rode to the A&P and back home with Howard and Teenie.
Wednesday Herman Bosch got some hay from the old Austin farm. Lon was at the Village about noon on Thursday. One of the men at the Rothman Place gave him a lift home. Herman was down for hay again.
Monday morning, August 25, Mr. Bente, the Congregational Pastor, stopped by Aida's. He gave Aida the Times.
Arthur was in to see his aunt Aida in the afternoon. Aida also went to the A&P. Mae called on Aida. Then Aida called on Emily Schoonover and went to the A&P. As she started home, Gladys Austin overtook her at the Rothman house, and gave Aida a ride home.
Saturday afternoon Arthur stopped by Aida's after work. He had met the train for some of Gladys Austin's friends.
January 1941
February 1941
Aida & Lon March 1941
The Village & the A&P, April 1941
May-June 1941