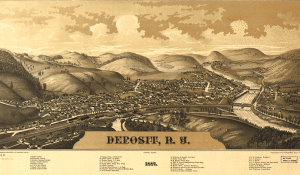 Chester was teaching in Deposit, New York, when he wrote Emma in 1871, month unknown.
Deposit, New York, 12th, 1871
Friend Emma,
Not having heard from you in a long time and thinking you could not have rec'd my last letter, yet you may have received it and forgotten (either intentionally or not) in which case I take pleasure in writing again.
I know that you are well aware that I cannot write anything of interest to anyone and thus it is with these few lines. I have learned from some of your neighbors that you were teaching school at intervals but the most of your time was employed in writing poetry for the Watchman.
But coming more directly to my subject I will have to inquire
After Billy Barker To know if he is well
And keeps that love for you Which he will never sell
Or does some other chap Walk in poor Billy's shoes
Please write and tell me soon About this kind of news.
I'm teaching school just now Up in Deposit town
Now when my turn is done I think of coming down.
My friends I know are few And far apart may be
And thus it pleasure gives Those friends sometimes to see
I s'pose you'll be at home For aught that you can tell
I'd like to visit you. I'd like it very well.
Then you must tell me all the news and furthermore
Please do not angry get At what I've said before.
I bid you now good bye Give my respects to all
And write when time you have, I'll sometime on you call.
Yours truly, Chester Beers
P.S. in the dark—write soon.
Previous Posts
1. Is that the New Teacher?
2. The Math Tutor
3. Chester Beers to Friend Emma, Correspondence Continues
4. What is the News? October 29, 1869
5. The Merry Laugh of the Village School
6. Teaching Advice in a Poem
7. I Would Not Wait for Erie's Train
8. 1870 Highland
9. Mrs. Prindle's Soliloquy
10. February 28, 1870, What Is the News?
11. Who Teaches in the Village, April 1870
12. Fair Hagan's Pool, June 1870
13. Shades of Night, 1870