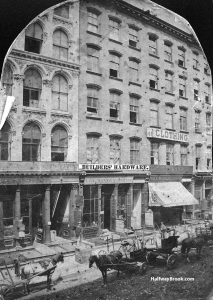 In the following letter to her father, Emma mentioned that Julia Kyte died (January 15, 1872). Julia, not yet 20, was the wife of William Kyte, son of Felix Kyte, the Congregational Church pastor. Chester asked about Will Kyte and Julia in his October 29, 1869 letter.
Emma, to her father Henry Austin, NYC, January 1872
Dear Father,
I was home a little while yesterday. Mother told me she had received a letter from you. They are all well at home.
Mort (her brother) is getting better. He insisted about every day on going to the barn. He says he is well enough and doesn't know what the cows must think of his staying away so long…
Julia Kyte died Monday night and is to be buried Thursday. I hear Mr. Webber is to preach the funeral sermon. It seems dreadful to think of it, it is so sudden. But very few heard of her sickness till the news of her death reached them. She was sick only one day.
Dr. DeVenoge and Dobron were both called, but human aid was powerless to save her from the grasp of the Destroyer. Truly "in the middle of life we are in death" and ought at all times to be prepared for his coming.
I would write more, but I have no room and I fear you will hardly be able to read what I have written, but my excuse for poor writing is as usual, a poor pen and I might also be a poor writer.
Give my love to all my friends there…I am very busy just now and have very little time for writing.
With love to my father and best wishes for his temporal and eternal happiness. I remain as ever his aff. daughter, Edith E. A.
Previous Posts
1. Is that the New Teacher?
2. The Math Tutor
3. Chester Beers to Friend Emma, Correspondence Continues
4. What is the News? October 29, 1869
5. The Merry Laugh of the Village School
6. Teaching Advice in a Poem
7. I Would Not Wait for Erie's Train
8. 1870 Highland
9. Mrs. Prindle's Soliloquy
10. February 28, 1870, What Is the News?
11. Who Teaches in the Village, April 1870
12. Fair Hagan's Pool, June 1870
13. Shades of Night, 1870
14. Deposit, New York, 1871