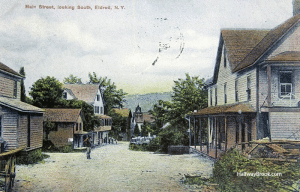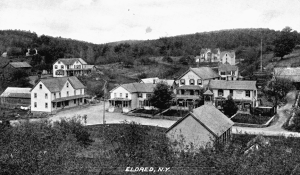 Halfway Brook Becomes Eldred
On February 12, 1873 Halfway Brook Village, where Emma Austin's family lived, was renamed "Eldred," in honor of Postmaster C.C.P. Eldred or his father James Eldred.
—The Mill on Halfway Brook, p. 172.
Albany Normal
In March 1873 Emma started Term 3 at Albany Normal. She had missed term 2 due to her health. Chester, in Walton, wrote to her in June.
June 1, 1873
Friend Emma,
Not having heard from anyone in your vicinity in a long time I guess I will have to renew our correspondence or lose every trace of little affections nourished in the wilds of Sullivan.
It would give me much pleasure to make you a visit such a pleasant morning as this when everything seems so happy. How, oh how, I could enjoy a ramble with you at this season of the year when the verdant meadows and pastures green, the dark wood, clothed in beauty of foliage, the soft sweet breeze and the deep blue sky all admit of nature's change.
But there is no need of my talking about coming there at present. Time won't permit. I heard that you was attending school at Albany about one year ago.
Since I left your place I have taught school every winter and only one summer the remainder of my time being spent in farming at home.
Whether I or you wrote last I have forgotten…How has David Young succeeded in his lawsuit with Parker? Eldreds (Emma's relatives) where are they? George I heard was dead. (Emma's cousin George W. Eldred died on March 2, 1872, when he accidentally fell from a roof and fractured his skull.)
Tell me about all my old friends there and acquaintances. Aida (Emma's sister) must be quite a girl by this time is she not? What are you doing this summer? Are you a graduate of Normal. Write soon. Give all the news.
Yours truly, Chester Beers
Previous Posts
1. Is that the New Teacher?
2. The Math Tutor
3. Chester Beers to Friend Emma, Correspondence Continues
4. What is the News? October 29, 1869
5. The Merry Laugh of the Village School
6. Teaching Advice in a Poem
7. I Would Not Wait for Erie's Train
8. 1870 Highland
9. Mrs. Prindle's Soliloquy
10. February 28, 1870, What Is the News?
11. Who Teaches in the Village, April 1870
12. Fair Hagan's Pool, June 1870
13. Shades of Night, 1870
14. Deposit, New York, 1871
15. Dear Father, January 1872
16. Emma Attends Albany Normal, March 1872
17. Lumberland Schoolhouse, 1872